The best day of your holiday...
Guaranteed!
Uncharted Boat Party Zante is the next big move from the creators of Tidal Zante. After 7 years building Tidal Zante from nothing to the biggest boat party in Europe it's time for a new challenge. We have been making waves in Zante since 2017 and 2023 is going to be no different, so strap yourself in and join us on board the best boat party in Zante!

From the start, Uncharted Zante had a customer first approach. When we created our Zante boat party, we thought about the customer and what they would expect from the best boat party in Europe. Your holiday is all about making the best memories possible.

With that in mind, we spared no expense when making Uncharted Zante the must-do event in Zante. With a massive 420 person capacity, 3 of Zante's best resident DJs playing anything and everything the crowd, a state of the art upgraded sound system exclusively shipped in for our guests, we have... everything required to make Uncharted Zante the best boat party in Zante.

The VIP treatment starts on arrival, when you receive free shots and discount drinks! Remember to pace yourself as our boat parties are known to get very wild, very quickly! You can also take advantage of our free glitter and paint station to glam yourself up for the mayhem ahead!

After the pre-party it's time to get onto the main event. We make our way over to the Zakynthos Port and onto the biggest party boat in Zante! As you arrive, you are greeted by the Uncharted hosts, more FREE shots and our resident DJs, who will be blowing the roof off the party!

A Zante boat party wouldn't be complete without a swim stop for you to cool off. Take a dip in the crystal clear waters of the Ionian sea before we get back on board and take the party to level 10! As the sun goes down the boat party enters its final hour, which we like to call Uncharted after dark. This final section of the boat party goes OFF without fail week after week!

When we arrive back into the port we aren't finished there! Buses take you back to the strip and, for those who feel up to it, it's time for a quick change at your hotel before heading to the official after party at Sizzle Nightclub, open until 5am! Now that's what you call the best day of your holiday!

There are some other boat parties in Zante, no doubt about it. Some good, some bad. But no Zante boat party comes anywhere close to Uncharted in terms of customer satisfaction. So if you are looking for hands down Zante's best boat party then get on board Uncharted Zante for Summer 2024, where you are guaranteed the time of your life and memories that will last a lifetime.
Read More
Why Choose Uncharted Boat Party Zante?
1000S OF HAPPY CUSTOMERS
We have been running boat parties in zante for over 15 years! With over 30,000 customers who return year-on-year!
FULLY REGISTERED UK COMPANY
We are fully registered in the UK and in Greece. You are in safe hands with us and we guarantee you will have the best day of your holiday!
BOOKING DIRECTLY WITH THE VENUES
When you book with us you are booking direct, there are no middlemen so the prices are the lowest they can possibly be!
24/7 Customer Service
We are always there to answer any question you may have. From hotels to events and everything in between, just drop us a message. We are happy to help!
VIP On Board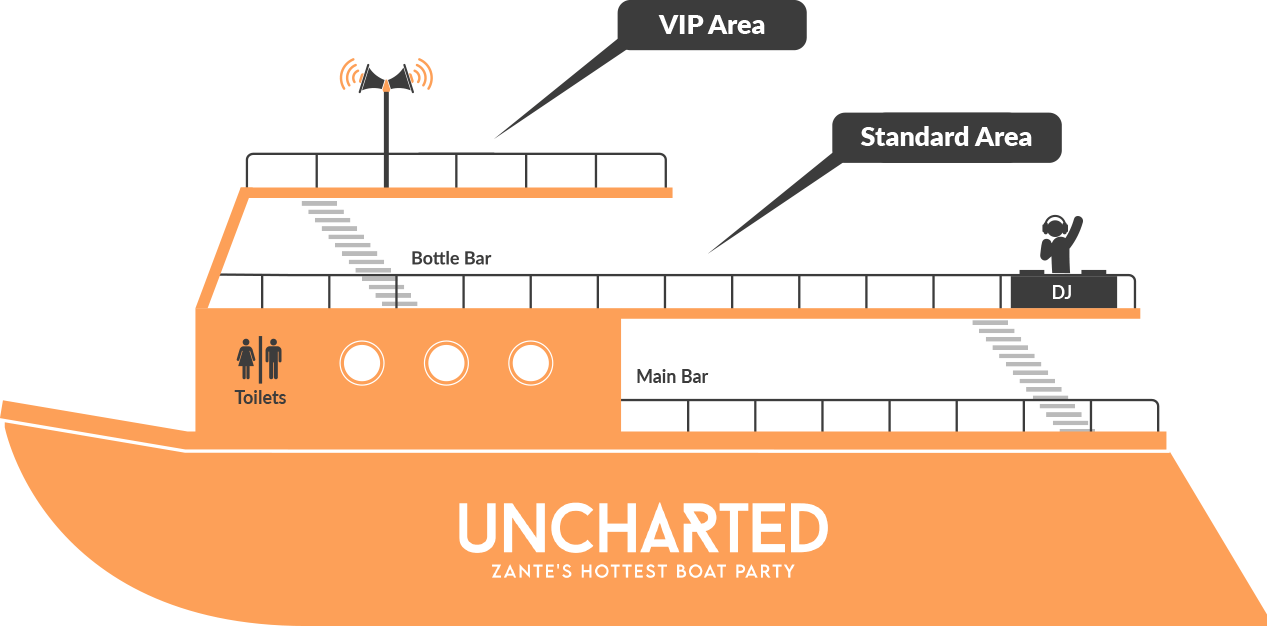 If you want to make your voyage with us extra special, we would recommend upgrading your booking to VIP. This can be done through your account page on our website and gets you the following benefits on board Uncharted.
ACCESS to the Top
VIP Deck
A private VIP area on the top deck of the boat holding just 80 VIPs - the best place to spend your boat party!
VIP TABLE SERVICE
FOR YOUR GROUP
Our VIP hosts will be on hand for the duration of the boat party to serve you from our VIP bottle bar.
FREE WELCOME DRINK
ON ARRIVAL
1 free welcome drink per person is provided to all our VIP guests.
LOOKING FOR THE BEST EVENTS PACKAGE IN ZANTE?
Then look no further than the Uncharted Platinum Package! Our package includes the 4 best events in Zante. Uncharted boat party, Switch Disco at Sizzle nightclub, Dirty Little Secret at El Paradiso Beach Club and Wonderland! On top of that you also get our amazing discount wristband which will save you tonnes of money over the course of your holiday. All that from just £89 and with deposits from just £1 per person it's not hard to see why this is the best events package in Zante. Spaces are extremely limited so don't miss your chance to get the best deal in town! The Uncharted Platinum Package, the only events package you need to make your holiday in Zante unforgettable!
DON'T JUST TAKE OUR WORD FOR IT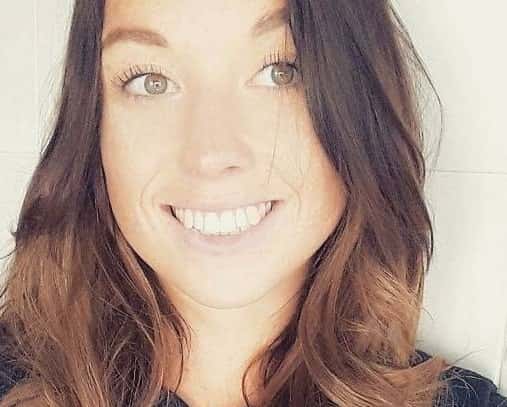 The Uncharted Platinum Package is worth it, you definitely save a lot of money, and the staff are helpful. Personally, the best event is the boat party! Great experience 🍻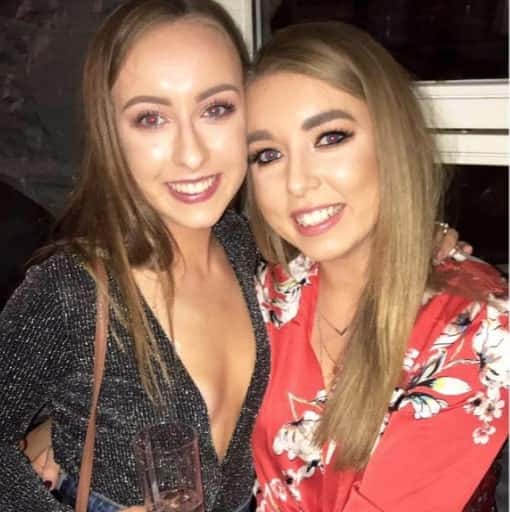 First time being in Zante, we bought our Uncharted wristbands before we went which included 5 different events. Everyone who worked at the ticket office was really friendly and helpful.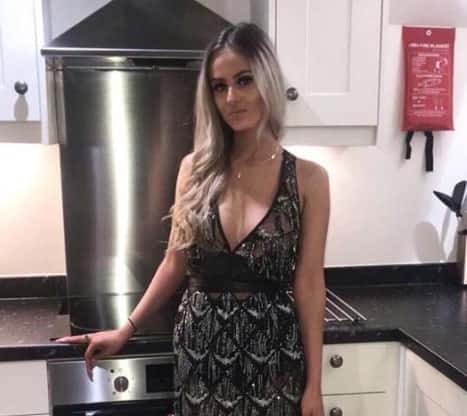 Absolutely great deal with really friendly and helpful staff who you can contact any time of day by what's app / via the phone.Easy to speak to and accommodate for you & your group of friends.Would love to return.

Zante is the place to be! wouldn't have been the same without the Uncharted Platinum Package, all the events were insane! literally paying for great deals, vibes and a good time! I would recommend to anyone id have happily paid the amount of the deal for one of the events so proper bargain that you get 4!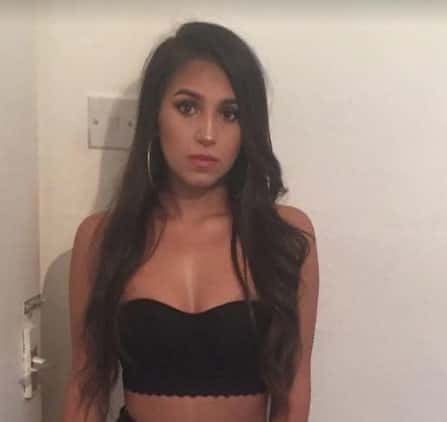 My friend and myself purchased the Uncharted Platinum Package alongside a deal from our rep. This deal gave us events for the second half of our holiday and was a good price! It sorted out our days where we didn't have anything planned and nothing clashed...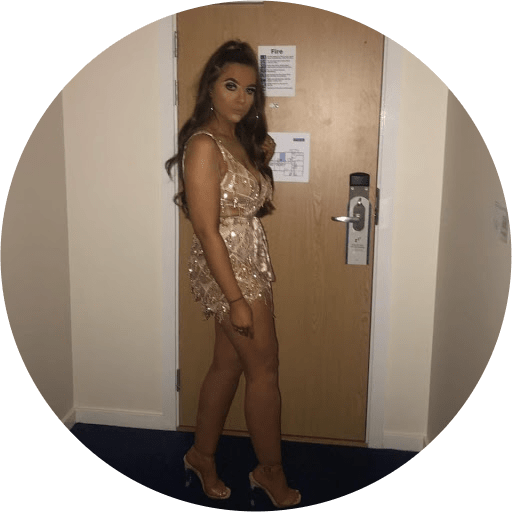 I enjoyed every event we did on the Uncharted Platinum Package, we even went back and booked 3 extra events through them. Every rep we met at Uncharted Zante and at the events were very helpful and always made sure we were okay.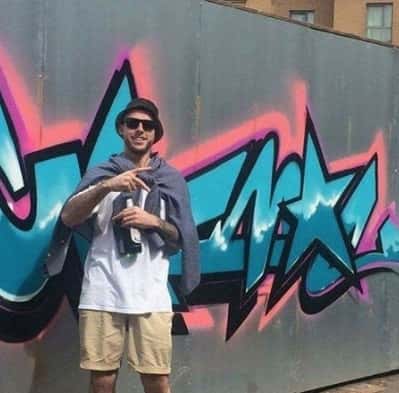 Zante 2019 was an absolute madness!! Me and all my lads enjoyed every second and the package made the holiday. All the events included in the deal were so worth the money we paid as if you bought them separately you'll be paying so much more. Literally a no brainer!!! By far the best holiday we've all experienced.

The package made my holiday 10/10. AbsolutelyMental i can't believe it. Uncharted was so lit and Switch Disco was mad this year and shouts to the DJ shelled both events.

Uncharted Zante definitely offer better packages and events than your travel rep on holiday and a massive thankyou to them for giving me and my friend the best experience, we had the most amazing Holiday!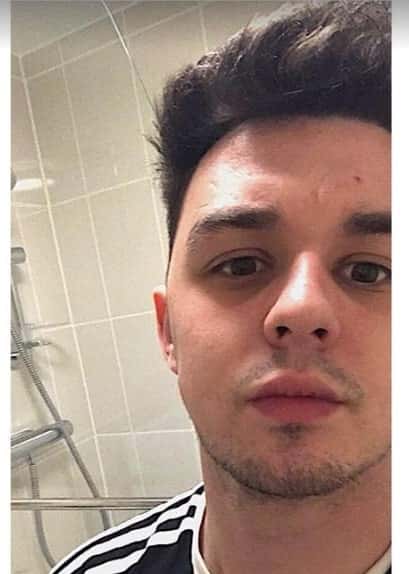 My 7 day bender to Zante was amazing! Each individual event I went to was different and a thrill! Hands down the best event I attended was Uncharted Zante. The staff were amazing and the party goers made it a memorable experience.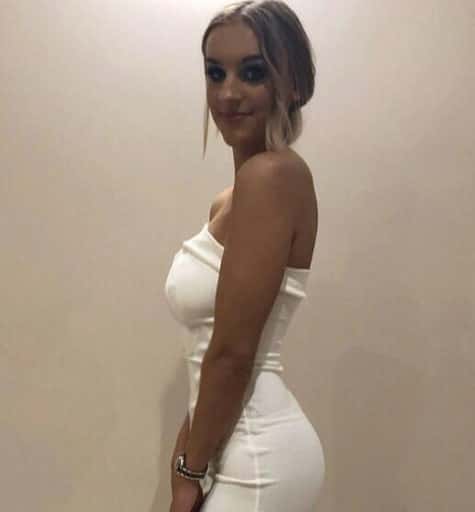 The whole team at Uncharted couldn't have been more helpful, they were literally there if you needed anything. Would 100% recommend booking the package, every event is definitely worth the money and you won't regret it! Switch Disco and Uncharted Zante are definitely the best 2 events you can do.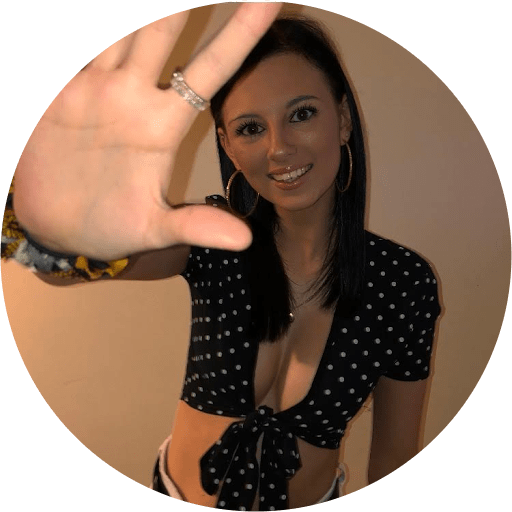 Best week of my life for sure! Every event we booked with Uncharted was amazing, all the staff were so welcoming and lovely too! Serious zante blues since being home, honestly couldn't recommend these guys enough!
Book In 3 Simple Steps
Choose Your Event
Choose from Uncharted boat party or the Uncharted Platinum Package.
Pay Your Deposit
Pay a small deposit of just £1 per person, perfect to reserve for big groups!
Receive Your E-tickets
E-tickets are emailed 2 weeks before your event after your balance is paid.
Register Now For Summer 2024
Loading, please wait...